Continuing what I hope will be a monthly tradition of "Keeping the Flame," here is another installment of Mandi's positivity-around-the-internet digest!
Beautiful things happen around the world every day.
We hear about the tragic, the shocking, the gruesome, and the threatening things… but how often are we presented with beautiful moments?
Let us fill our minds, our hearts, and our internet spaces with moments that touch the soul.
This is my contribution to you today: a collection of beautiful moments captured from all over the internet. My hope is that you read, click, and explore these glimmers of hope in a world which often seems dark and too miserable for words.
Let these moments bring you hope today.
1. The 9/11 Survivor Tree
This is the most inspiring story of mother nature and humanity coming together. It's a rare moment where humans truly believed in the power of nature and chose to spend time, money, and considerable love and care to live out that belief.
This beautiful pear tree was almost completely destroyed by the 9-11 tragedy. All of its branches were broken, and it stood as a barren, marred trunk. Most would have considered it dead, and bulldozed it.
However, some hopeful horticulturalists rescued this living thing and literally nursed it back to health. The "Survivor Tree" now stands full and tall in its new home in the middle of the 9-11 memorial.
This tree (and those who loved it enough to give it a second change) truly inspire me today. We can be broken. We can be burned. We can be past helping ourselves. But through some miracle of love, we too can one day rise again, blooming full and bright. We too can be healthy once more.
Check out the full video here.
2. J. K. Rowling Stands Up for Dumbledore
I'm sure you all saw this popping up in your news feed weeks ago– J.K. Rowling's brief and poignant response to a fan's rude tweet against Dumbledore and his sexuality.
I am so glad when I see moments like this, when people with such influence campaign in small ways for equality and love. Moments like this make me believe in the goodness of people.
I grow to be thankful for the presence of social media in our world, because it means that it is so much harder for prejudice to lie unanswered. Racism, homophobia, misogyny…. they are all currently being battled in the limelight of media exposure.
I believe that the most significant difference we can make against the darkness of the world is to shine a light on it. J.K. Rowling is doing her small part to bring this into reality, as are many other remarkable others.
This is important. We are all "just people"– no matter what we "look like". No matter what other people see, we all are worthy.
Review the full story and check out J.K's great tweeted quote here.
3. Instagram and Freedom in Somalia
This beautiful girl is using an everyday app to change her world– and ours.
Ugaaso Abukar Boocow and her instagram feed are showing the world another side of war-torn, "poor, suffering Somalia." And in the process, she is bringing humanity into this struggling country. She is showing us in the "Western World" that we are indeed more similar than any of us suspected.
Just like any other girl (just like us), she posts beautifully composed fashion photos. She features silly videos. She shows us the everyday beauty of her neighborhood.
But for us, this is a side of Somalia the world at large never sees. We see this part of the world as bleak, suffering, and lost– a place to send soldiers and money every now and then, but otherwise completely separate from us and our iPhones, Teslas, and stocks.
We are not separate. We are the same.
I love this connection, and I love that Ms. Boocow has become famous in her efforts. She is humanizing Somalia for a world which still struggles to see Africa as anything but a single "country."
Look into the full story that NPR featured her in here.
4. Saving Gaza's Only Grand Piano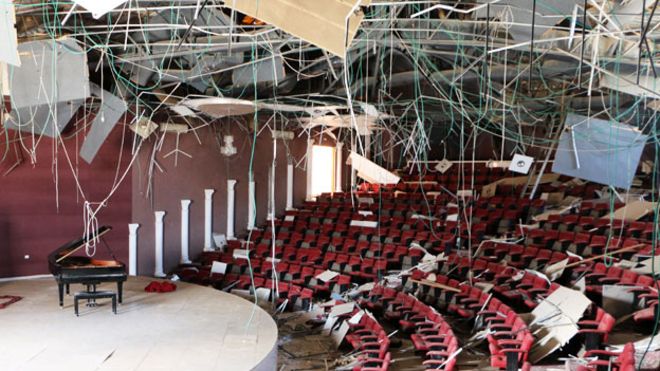 This story comes very close to my heart.
In war-torn Gaza, music may be the very last thing on people's minds. Performance halls are shelled alongside schools, hospitals, and civilian homes… and the world has far more important things to think about.
This is exactly why stories like this are so important.
As miraculous as it seems, there exists only one single concert grand piano in all of gaza. The entire population of Gaza (1.8 million) only possesses 13 pianos between them. 13 total. Only. This data brings tears to my eyes. How is such a thing even possible? How can a war destroy so much?
The greater miracle exists in this one special grand piano– that it survived a rocket assault that all but demolished the performance hall it stood in. It survived in good enough condition to be repaired by a beautiful-hearted piano technician from France.
Once again, people put their heart and soul into loving something that can't possibly love them back. Something that most would have considered dead. Something that can't possibly give them monetary or material gain. They are giving pure love to bring things to life again– first a tree, and here a piano.
One day, Gaza will be whole again. I have to believe this, as I have to believe the same for South Sudan, Afghanistan, and North Korea. Call me an idealist. But hope is all we have.
Check out the beautiful restoration story here.
5. #PortraitsofStrength
This beautiful collection of photographs by National Geographic "your shot" contributors came together during International Women's Day last month.
Artists from around the world submitted their own photos of strong women in their lives, along with their moving stories. I loved reading about each of these women– their struggles, their triumphs, and their daily victories.
If you find yourself in need of a boost of "woman power" today, or if you just enjoy seeing the strength found in other beautiful souls, please look at these highlights.
6. Unt Alum Sees Art Through Touch
Need another beautiful portrait of strength? Take a look at the gorgeous works created by artist John Bramblitt.
His story is amazing. Living with epilepsy eventually led to blindness and the shattering of all of his life goals– but it was only after this blindness that Bramblitt began to explore painting. And how thankful we all are that he did.
Bramblitt's works are unbelievably vibrant. colorful, and evocative.
While the loss of sight might seem the end of the world to some (me included), and while Bramblitt himself struggled with deep depression surrounding this time, he was blessed to discover his creativity in a new way.
His life went on. He survived. He got back up again.
I find his story incredibly inspiring.
Look into his other utterly gorgeous works here.
---
As you can see, renewal and rebirth are common threads in these events. New things begin out of old things once lost. Things are given new life. Things are reborn into new purposes, new homes, and new lives.
Perhaps I feel so inspired by these things today because I feel the deep need to believe in this process. I have to have hope that renewal exists. That rebirth is possible. That we can indeed bounce back from the most horrible of circumstances.
These miraculous stories give me hope. I hope they do the same for you.
"Hope is the thing with feathers
That perches in the soul
And sings the tune without the words
And never stops at all."
― Emily Dickinson