Graduating really did me good– in more ways than I realized.
In 2016, I read more books than ever before. A total of 30 completed books, and probably 10 others that got halfway finished. I'm really proud of myself, and I'm determined to keep this trend moving.
But before I decide how many books I'll challenge myself to read in 2017, I'm going to do a little review of my favorites. It honestly wasn't hard to determine my top five from the past year, probably because there were very few books I really loved.
These are the most memorable, exciting, unique, and impactful books that I've read this year:
5.
Illuminae
by Amie Kaufman and Jay Kristoff
This book was a masterpiece of young adult sci-fi. I recommended this novel to everyone because of its fascinating format, beautiful graphic design, and twisting plot. Then, when I moved to Austin, I gave the book away– completely not knowing that I would regret it later. I now have this book on my shelf again. Yes, I re-bought it. Illuminae is SO worth it!
4.
The Lifechanging Magic of Tidying Up
by Marie Kondo
I didn't know how much I would love this book when I first finished it. Talking about standing up carrots in the fridge seemed a little too odd for me to really grab ahold of. However, I have since applied the KonMari method across most of my home, and I'm in love with her idea of keeping objects that "spark joy." This has been the best decluttering method for me so far.
3.
S.
by J.J. Abrams
This book was an EXPERIENCE. You just have to try it for yourself. The removable ephemera, multi-layered story, and puzzles/codes throughout made for a truly unique read. I didn't love the story itself, but I anticipate revisiting this work again in the future. Who knows? Maybe I'll pick up a lot more of the clues the second time around. As there are entire blogs devoted to deciphering the puzzles in this book, I sadly don't think that's likely.
2.
Station Eleven
by Emily St. John Mandel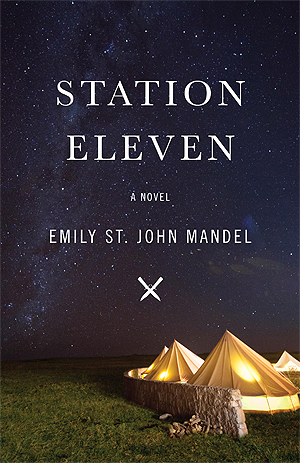 This was the first "adult" fiction novel I've read in recent memory that I couldn't put down. Of course, the dystopian post-apocalyptic novel is always my first choice. But this book was put together SO WELL. The plot unfolds at just the perfect moments, and I turned pages faster than my eyes could keep up. I'm thankful for this book for reminding me what it's like to love a book again.
1.
Tiny Beautiful Things
by Cheryl Strayed
And the winner is: the best book I've read in a LONG time, not just this year. Reading this essay collection, I had tears in my eyes over and over again. Not because the words were sad– but because they spoke so deeply to my very core. If it weren't sacrilegious to say so, I'd say that this book is basically the bible for my current stage of life. All of my thoughts, feelings, and beliefs were in there. It's like Sugar more than understood me– it's like she WAS me. I can't recommend this book enough.
Honorable Mention:
These Broken Stars by Amie Kaufman for another entirely-engrossing sci-fi with a GORGEOUS cover
Allegiant by Veronica Roth for one of the most well-executed dystopian trilogy endings that gave me ALL the feels
Eating Animals by Jonathan Safran Foer for giving me the final impetus to become vegetarian
Big Magic by Liz Gilbert (but especially the accompanying podcast, Magic Lessons) for inspiring me
---
At the end of my first year away from school, I'm super proud of the amount of books I completed. Feel free to peruse my Goodreads account for the other books I completed and my full reviews. Next year, I aim to read 45 books. It will be a big goal, but as this corresponds with one of my major New Year's Resolutions, I think I can do it!
What were the best books you read in 2016? I'd love to hear about them in the comments down below.
"A room without books is like a body without a soul."― Marcus Tullius Cicero